SOME PROPERTIES I RECENTLY SOLD FAST:
Are you thinking of selling your southern Utah property in the future? If so, you probably have questions:
How much is my property worth?
How long will it take to sell my property?
There's one other question that's likely to be on your mind: How do I find the most capable and trustworthy real estate agent who will do the absolute best job of selling my property quickly – and for the highest possible price?
It's no secret that real estate agents are not all able to achieve the same results. This is in large part because agents do not all have the same willingness to spend effort and money on marketing each of the properties they are entrusted with selling. There are also significant differences in agents' communication styles, spheres of influence and networking capabilities.
There are agents who will post a sign on your property, post your listing on the multiple listing service (MLS) and then sit back hoping the universe will magically reveal the perfect buyer. Then there are agents who will proactively invest a much more significant amount of effort in marketing your property. So, when you're looking for an agent you can trust with your listing, the first question you want to ask is "What will be your strategy for marketing my property?"
Michael Solovay's $3,500 Real Estate Marketing Strategy:
I'm Michael Solovay, a licensed real estate sales agent working with Re/Max in southern Utah. I'd like to share with you what my strategy will be for marketing your qualified southern Utah property:
Your property deserves maximum exposure to the broadest possible variety of buyers. To achieve maximum exposure, I believe it will be crucial for your real estate agent to take a multi-faceted approach to marketing your property. So if we mutually agree that your property is a good fit for my services, my marketing strategy will include television commercials, print ads, an extensive online marketing package and personal networking.
Take a look at what my Exclusive $3,500 Listing Marketing Package provides, versus what you can expect from most other agents: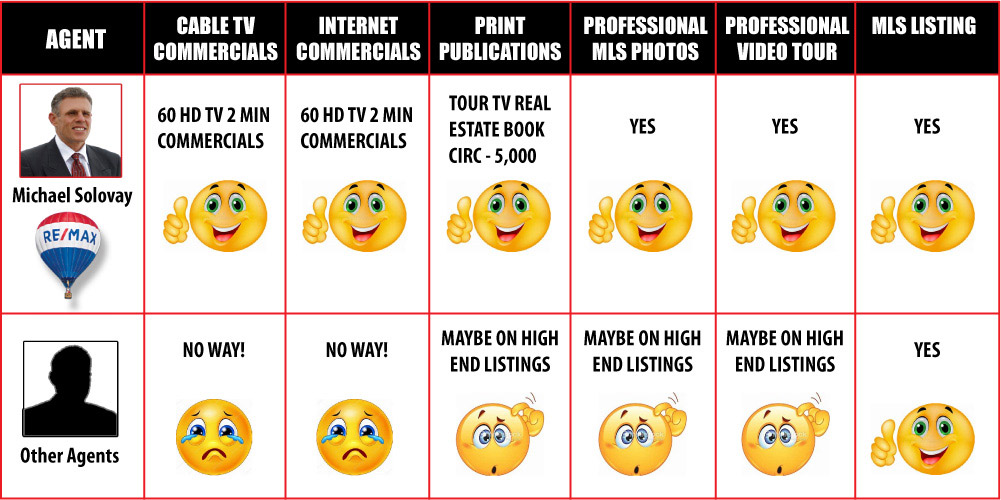 At this point, perhaps you're thinking $3,500 worth of TV commercials and other marketing? Is this guy for real? For every property listing? How is that possible?
Michael Solovay, Re/Max Real Estate Agent — Using The Power of Tour TV
Yes, it is true. I spend $3,500 out of my own pocket on marketing your property. See the pricing chart below: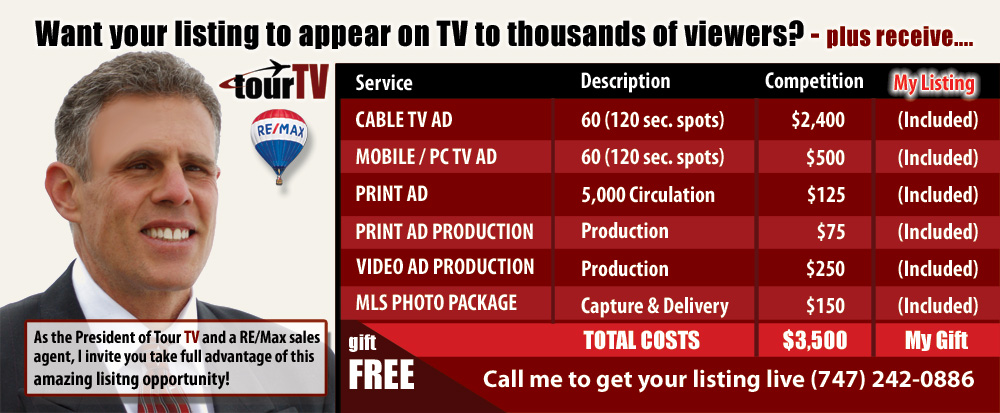 This is entirely possible, because what I'm offering you is highly targeted cable television commercials that reach an audience in southern Utah and northern Arizona. The viewer base is comprised of local residents plus hundreds of thousands of visitors to the area.
Also, I am the president of TourTV, the channel on which your commercials will be airing. So I plan to personally subsidize my channel's TV commercial inventory for your benefit out of my own pocket. But I certainly wouldn't take this risk, if I weren't confident I could sell your property.
Additional Marketing Services Included:
Lock box access
Signage
Professionally printed listing brochures for buyers
Exposure on Zillow, Trulia, Realtor.com & other approved web MLS portals
Other internet outreach including search engine optimization and social media
Direct mailing campaign
Communication and Support
Communication is extremely important. You can count on regular updates from me by both phone and email. In addition I will be there to guide you through all facets of the transaction, explain all your options, and ensure I provide all information regarding any potential buyer / buyer's agent communications in an expedited fashion.
Increasing the Buyer Pool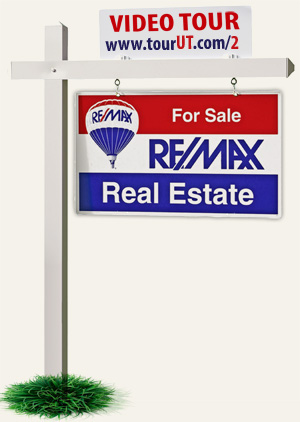 The more buyers we drive to your listing, the more likely you are to receive an offer, and hopefully multiple offers.
That's why I push so hard on effective, properly budgeted marketing.
Also, instead of simply just placing print flyers on the sign containing details about the listing, I take your property listing to the next level.
Potential buyers get the full benefit of viewing the property with a full blown HD television quality commercial, further maximizing all drive-by traffic.
Checkout the RE/Max sign featuring a link to view a live video tour.
These TourTV video tours are available to buyers to watch on the cable TV channel, mobile / PC and from all the MLS listings.
LIST your property with me exclusively, and redeem your $3,500 gift card in marketing dollars. Let's get your listing up and running so I can begin marketing your property!
Let's Get Started
With your exclusive listing agreement, I can take my proven track record of sales / marketing and provide a level of service untouchable by the real estate community as a whole. So allow me to LIST your property (residential or commercial) and let's begin building a long lasting working relationship together.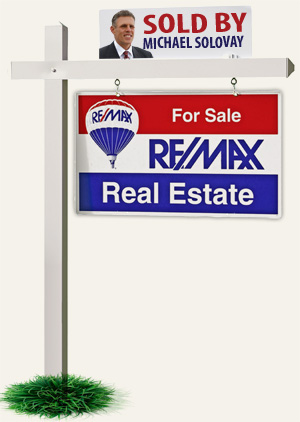 Michael Solovay
Real Estate Sales Agent
RE/Max Properties
• Commercial & Residential
• Buyers & Sellers, Investor-Friendly

TourTV
President
Cell: (747) 242-0886
Email Me
---
P.S. All this still leaves you wondering: "How much is my property worth?" and "How long will it take to sell my property?" I invite you to call me so we can discuss the answers to these questions.
Terms of Gift Card Issued by Michael Solovay: The gift card offer is non-transferable and only redeemable for marketing services on properties exclusively listed with Michael Solovay for sale in Washington County, Utah or Iron County, Utah. The gift card is not redeemable / exchangeable for cash and has an exchangeable cash value of zero cents, and is only redeemable for $3,500 marketing dollars paid by Michael Solovay directly for any costs associated for the marketing he provides per exclusive property listing signed with him. Michael Solovay alone is solely responsible at his discretion for both how and where any / all dollars are spent whether these dollars are paid to third party vendors and / or used as credit / subsidized dollars with Tour TV. This card can be applied to multiple properties listed by the card recipient. Each exclusive property listing will receive the full $3,500 marketing gift card allotment being offered per exclusive property listing signed by the receiver of the gift card. This card can not be reapplied to a property if the listing contract period expires, by other agents / brokers assuming the listing, however the offer can be honored again at the discretion of Michael Solovay if the listing contract is exclusively renewed again for an extended period with Michael Solovay. This card is not valid for any licensed real estate agents or brokers in Utah or outside Utah. Brokers / Agents see below how to participate. OFFER EXPIRES: 11/30/2020
Real Estate Brokers / Agents
If you are interested in learning more about how Tour TV can help promote your listings to our audience, please feel free to: Email Tour TV's Advertising Department.